How To Market Your Product With 1 2 3 Bottom Boxes?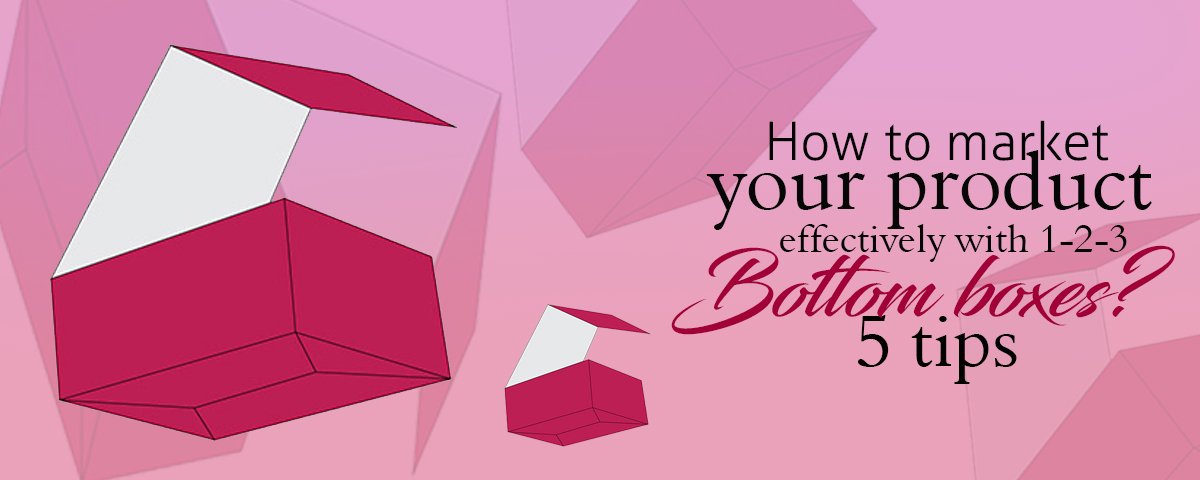 Picking the style and substantial for the packaging of your product is a very tough job since the number of packaging solutions are accessible in stores and even online. The next step that complicates the process, even more, is the functional design and printing. It is essential to select the package that can provide ultimate protection to your product. Many organizations do their highest to satisfy their clients with appropriate packaging and product protection. This helps to satisfy the needs and requirements of the client.
One such packaging that can provide ultimate protection to the product is by using a snap lockbox or 1 2 3 bottom boxes. These can provide support and protection by providing complete coverage to your product. But it is essential to know what we mean by 1 2 3 bottom box?
What do we mean by 1 2 3 bottom box
When you want your merchandise to stay integral, you need to use the 1 2 3 bottom boxes. These bottom boxes consist of flaps. Flaps are the most comprehensive portion of a box that is present at the sides. These flaps are dangling easily with no attachment. This is just like any ordinary box, for example, having four sideway panels that are glued all together to custom four walls. And a top cover that undoes and closes the box. But bottom box comes with an exception it consists of a manual flap lock present at the extremity.
Therefore, the bottom box consists of four flaps that are joined all together to protect the inside product. And the most fantastic part is that the top of the box is not glued or pasted. This thing makes it more appealing. You can also customize these interlock or 1 2 3 bottom boxes according to your taste. You can wish to add another flap at the bottom. It all depends on your choice.
Benefits of using 1 2 3 bottom boxes
Many industries use their type of packaging for the products. However, they are at a high jeopardy of striking with something externally or accidentally may fall off during delivery services. In some cases, even if the product is not affected the outer packaging is deformed.
Therefore, it is best to use 1 2 3 bottom boxes. They are made with accurate precision. The bottom lockbox holds great importance in regards to the product inside. It is firmly tight and is made concerning the weight of the product inside. Some of the uplifts of using bottom boxes are as follows.
Bottom boxes are appealing or eye-catching
If the package you are using is devoid of colorful elements, logo, different shades, eye-catching bows with colorful printing, how come, your customer is going to buy it? How will the client know what's inside the blank box? This problem can be solved with creativity and colors. And 1 2 3 boxes when made with creative ideas it becomes the king of all the packaging boxes.
You can simplify your bottom boxes with brand logos and by using different color schemes. This will make your box attractive and will catch the eye and heart of the client.
Bottom boxes introduce your brands to the clients.
Bottom boxes are helping in promoting your product. By using different color schemes and creative ideas to make the box look nice, you will surely catch many eyes, but still many will not be satisfied. For this, you need to add one more thing to your box that is the written text. If your 1 2 3 boxes are completely or halfway brand they, it will still make people confuse in the sense that what is inside the box. Even if you place the title on the top, this isn't going to help much either. Therefore, the text is essential. Along with text, don't forget to place the logo along with manufacturing and expiry dates. This will promote your product a lot more.
Custom bottom box for sound electronics
Sound electronic like headphones or speaker system is more sensitive and are more prone to damage. These electronics come with wire and other minute components that are connected to the electronics. They must be handled with special care. They are at more risk of damaging themselves. The companies are very much careful in choosing the most appropriate box design for electronics. And for this purpose bottom boxes are most helpful. They are designed with precision and measurement. They have good material used for protecting these good electronics. Therefore, it is best to use these 1 2 3 boxes for electronic packaging.