Follow These 5 Guidelines To Get T-Shirt Printing In An Easy Manner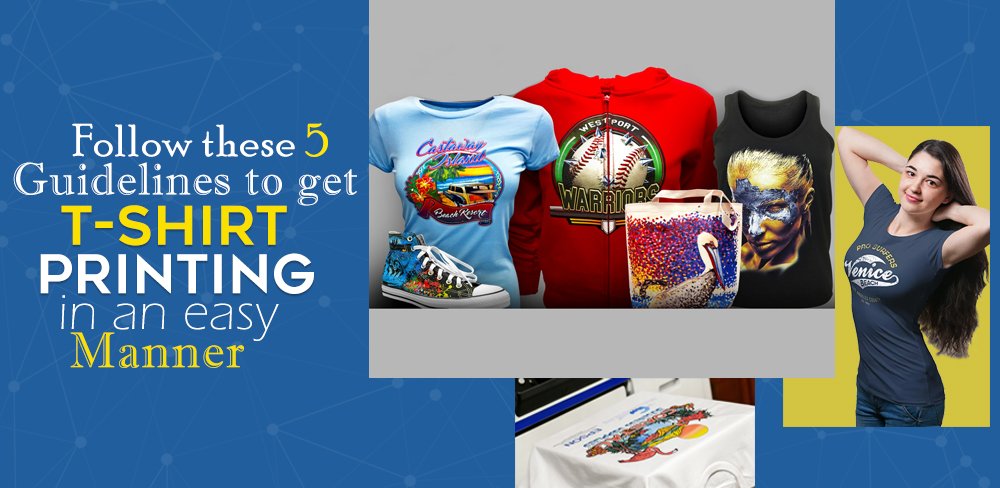 As soon as the latest printing techniques became available in the market, the demand for t-shirt printing boosted. Such was the situation that they became a very popular means of promotion and advertising. These shirts are still being used widely across the globe for multiple purposes. These shirts are usually normal, cotton shirts, but are printed with texts, pictures, or any other design that the customer wants to get. They are not just used for marketing purposes but are also gifted to customers for their contribution to the business. As a whole, these shirts are very useful for businesses in all aspects, and hence their demand can be justified.
T-shirt printing has taken over the world by a storm and has become a sensation for all businesses. These shirts provide looks that are fascinating and hence can be immensely beneficial for a company's success in the long-run. However, many people face problems while getting their shirts printed, and hence have to repeat the process multiple times. Let's discuss some techniques which you can use to make this difficult process effortless.
Right Materials | Print your own T-Shirts
Before obtaining the t-shirt printing service, one should have a shirt that has been made out of an optimum material. Most printing services do not require a particular material; however, certain things need to be considered while you choose your plain shirt. During the printing process, the shirt has to undergo pressure from the heavy printing machines that are being used. If the material is too thin or the cloth quality is not up to the mark, it would not be able to sustain the pressure and might end up being torn. However, if one purchases a cloth that is too thick and dense, obtaining favorable results will not be possible in this situation either. Even though the printers that are used look bulky and heavy, but in reality, they are sensitive and delicate machines. Not only the printed picture on such a clothing material will be unclear and blurred out, but there are chances that the printer may be damaged. Hence, a durable yet light cotton material will be suitable for this purpose.
High-Quality Printing |
Custom T-Shirt Printing
Apart from the cloth quality, the printing quality also does matter, and that too to a great extent. Some t-shirt printing online services claim to provide printed shirts at a shockingly low price. Customers often get attracted to them; however, the truth behind this price is that either they are using old printing methods such as screen printing or utilizing substandard materials in the process. In either of the cases, the results will not be long-term, and they might have some defects in them. To ensure that the quality of the printed material is top-notch, one should only use the latest printing mechanisms, like the Direct-to-Garment (DSG) method must be used. The quality of ink that is being used must be high-class as well. These points would not just ensure seamless printing experience but would contribute to the longevity of these shirts.
Minimalist Designs |

T-Shirt Printing Online
Often getting overwhelmed by the number of designs available in custom t-shirt printing, people haphazardly add numerous designs and illustrations to the shirt. Not only this looks aesthetically displeasing, but it makes the task of printing quite difficult. To avoid any inconvenience in this matter, one must ensure that they do not tend to overload the shirt with graphics. One illustration or design at a time looks perfect and is also easy to manage. When multiple designs are ordered, it gets difficult to manage on the minimal space that the shirt has to provide, and a mix-up can occur. Thus not even one motif is visible. Hence, for ease of printing, singular and minimalist patterns like geometric or text-oriented must be preferred over the fancy ones.
Fewer Colors -

T-shirt For Advertising
When the t-shirt for advertising is being designed, one thing that must be considered is the number of colors that are being used in the designs. Undoubtedly, a shirt with multiple colors looks beautiful and is likely to bring greater success to the company that is using it, however, if an exorbitant amount of colors is used, the looks are deteriorated. Moreover, the printing becomes difficult, and the chances of colors being scattered are quite high. The time that is required for the printing also increases substantially, and hence, the overall experience is not a pleasant one. Therefore, overloading colors should be avoided, as well.
Simpler Styles
Everyone wishes to wear a uniquely styled attire, and hence, for getting t-shirt printing, they may use shirts that are quite different. Even though the style looks beautiful and attractive, it is not very easy from the printing point of view. Generic crew neck and v neck styled shirts can be easily printed with the illustrations and text of your choice, however, if you would want polos or collared shirts to be printed, it may become a little more complex, and the chances of mistakes increase. Hence, if you want to avoid such complexities, normal shirts that are not so fancy must be used for the printing.
By now, you would have had understood that getting shirts printed is not as easy as it seems to be. However, using these guidelines, you can avoid any traps or complexities that people often fall in to. Hence, they should be followed, and printing t-shirts should be made flawless and effortless.