Why Should We Use Die cut Boxes For Our Products Promotion?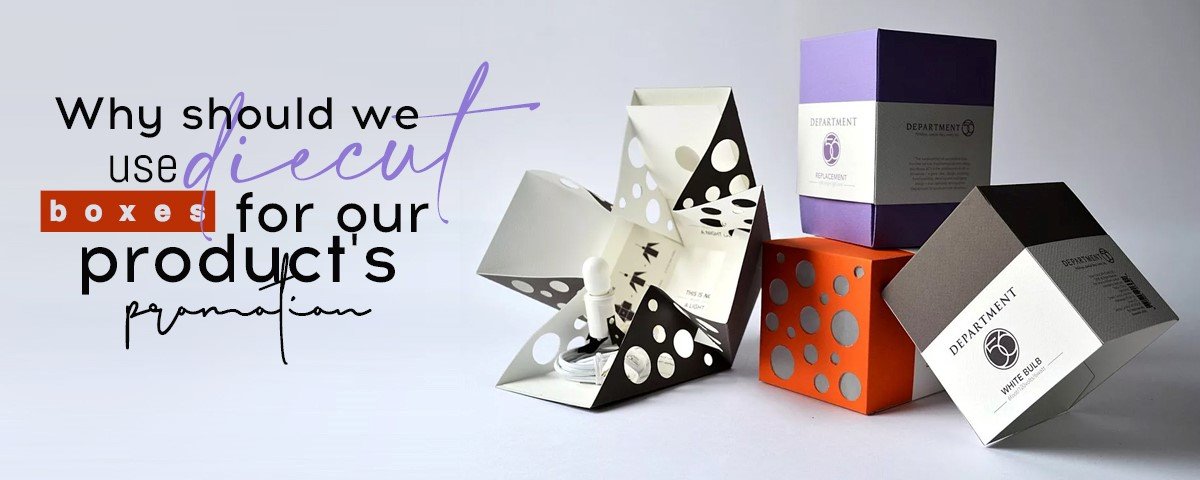 Die-cut boxes are chosen by many buyers because they are created according to the need of the product. Their graceful and eye-catching look makes it better than other replacements. They are made with elegance by giving beautiful style to the cardboard. Digital Printing makes them look more attractive. These printed packages are also helpful in promoting the business. Here are some of the reasons to use them to promote our products.
Versatile and flexible packaging:
The most flexible type of them is the punched one because it can accommodate different items of alternative sizes. They can also be used for many special occasions like festivals, birthdays, weddings. People can use them for packaging the gifts gracefully. They simplify the process of storing the items perfectly; therefore, it is highly preferred by the companies. We can fold cardboard die-cut boxes and store them for later use. This shows that we can also reuse them. These exceptional features make them versatile and flexible. It is also beneficial for promoting the product by providing custom packaging to the buyers.
Professional presentation of the product:
These customized packages provide a professional look to the product. This presentation helps a lot in appealing to a large group of consumers. Custom printed boxes are also very helpful in improving the look and promoting the product. Companies can print the company the company's logo and multiple designs on it to make them look more fascinating. Creative and colorful designing on them makes your product more beautiful. Moreover, different offers and information regarding the product can also be printed on them for marketing purposes. Printed die-cut boxes can be one of the major ways of advertising the product. Digital printing is used for designing and styling the packages in a respective way. Die-cut boxes with windows help a lot in increasing the visibility of the product and can be the reason for customers' attraction.
Cost-effective marketing:
They provide us a way of advertising our products without the need to spend extra money on any advertising campaigns. This cost-effective marketing is another major reason to select them for promoting your company. They are always the cause of getting positive reviews from the people.
Secure packaging:
It is another reason for choosing these customizable packages to make your product renowned. They help a lot in transmitting the items to the customers in a protective manner. When consumers receive their products without any harm, so it increases their confidence in the company. During shipment, they help to keep the things harmless. They can accommodate any item in them easily and deliver it to the consumers without any discomfort.
Provide ease in customization:
They provide us many options for customizing them based on the style, size, or shape of the packaging. Customizing is done by using digital technology. They can easily be customized according to the customer's demand. This feature can also be the reason for the product's marketing because buyers always prefer the brand that can be able to provide their desired product and packaging.
Green packaging:
This is always a better way to promote your product. As we all know, that concern about the protection of the environment has increased nowadays. Everyone wants to buy eco-friendly products that are not harmful to the environment. Therefore, manufacturers are very much concerned about creating their packages with biomaterials like cardboard, Kraft, etc. Different tags or labels can be used to show that the business sector is using eco-friendly material. Logos can also be printed on them to spread awareness regarding this environmentally beneficial phenomenon. In this way, the company can easily appeal to people towards them.
Distinguish your product:
Custom printed die-cut boxes promote your product by differentiating it from other companies. The product achieves its identity in the market through digital printing. It highlights the specific brand and spread awareness among people about the business. Multiple business sectors like bakeries can appeal to buyers by providing remarkable packaging and make a place in the market. Die-cut boxes are very helpful in promoting your business and achieving a separate place in the relevant market. Printing on them makes them more graceful and appealing. The company's logo and name on them differentiate the brand from other brands of the same category in the market. They can adjust multiple items of different shapes and sizes in them, which is another reason for making the brand famous among the people.