These 6 rules can make you master in retractable banners printing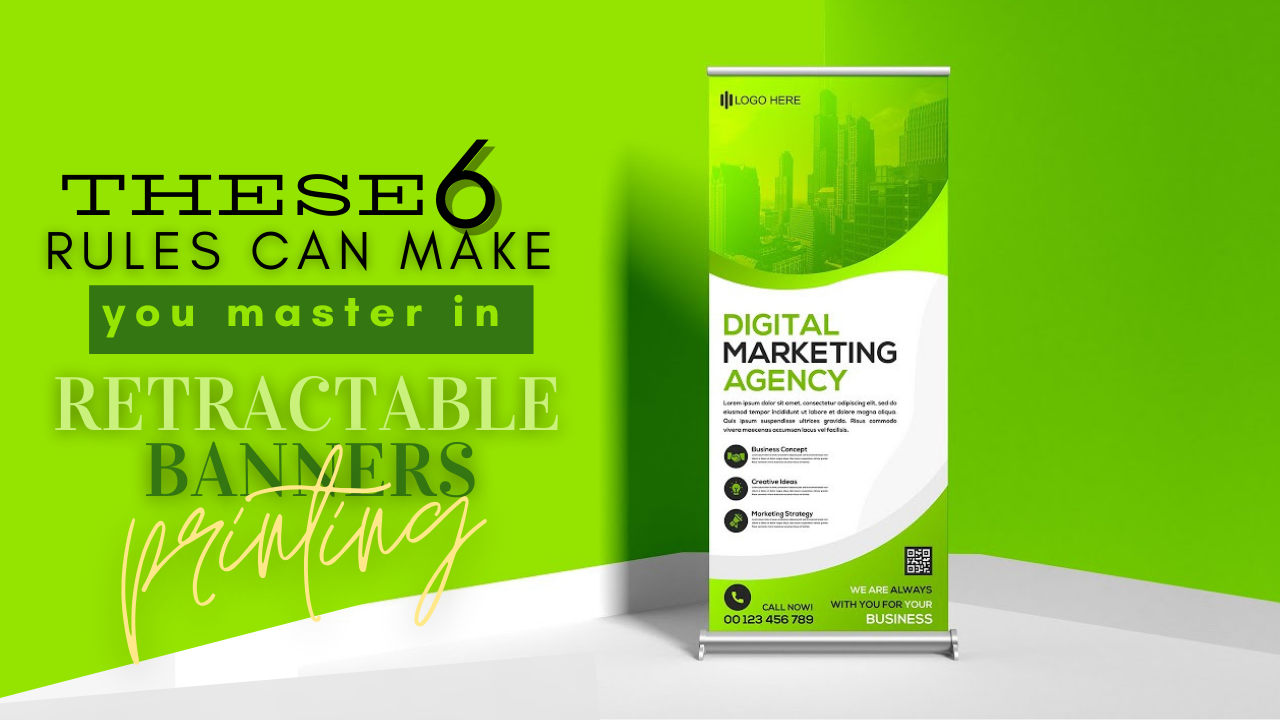 The retractable banners are an effective option for promotions. Their shape is well-composed, which is also easy to handle. They occupy very less space because of their refined structure but work precisely for the advertisement of the business. Their design has no limit, and by making the changes to their basic layout, they can be used for multiple other purposes as well. Identifying the purpose behind these banners and then designing them accordingly can help you to save time and use them according to the required purpose.
Customize their look with pictures and graphics
The customized retractable banners look great wherever they are placed. If you are designing the banner for your company and are going to promote a specific product via these banners, then you should consider customizing them.
The customization done by you will give it a company-specific touch that you can use for the betterment of the company. For that purpose, you can choose to add some pictures and graphics to these banners to give them a visual touch. The printing processes are utilized, and they make sure to give the required look to the banners. The customization other than adding pictures and graphics to the banners includes using some special messages so that you can convey your message effectively to your audience.
Print to give them a striking appearance
Printing is the only thing that creates a difference in the banners. But before jumping straight to the printing procedures, you must consider the area where it will be placed. After knowing all of the details, get an accurate dimension for the banner. For instance, if your banner will be placed in market corners, then you will like to shrink the size a bit. After that, the printing must be done on it. Even if you are trying to promote your business via these banners, you should focus on printing as it is the only thing that will stay in the minds of the people. The printed retractable banners shine bright, and with laminations, they receive a more appealing look.
Finalize the design that you want
What is the purpose behind your banner? Why do you even need this? Finding the answers to all of these questions can help you to improve the look and quality of the banners. Making a rough template that shows the look that you want to achieve will be helpful for you as it will save a lot of time and effort. The custom retractable banners that have a purpose behind them and are manufactured carefully shine better than the rest available options. The designing part is important, and mastering it will render multiple benefits to you. If you are using the banners to promote your cosmetic business, then you will want to add relative designs and some information to them for better results.
Focus on the colors of banners
Even if you have finalized the designs for the banners, it is important to pay attention to the coloring schemes of the banners. The commonly used schemes are CMYK and PMS, which have a perfect blend of colors that can be applied to the banners.
A colorless banner will not have the potential to attract customers towards them, whereas a colorful and lively banner can allure people around them and will force them to have a detailed look at them. Just like any other custom printed products, the printed banners with color schemes are also important. The shaded on the banner will give them a striking look which receives an extra treatment by many laminations and coatings options.
Find an attractive text for your banner
You take days to design your retractable banners and do every possible thing to them, but you are not receiving any attention. The reason might be the font that you are using on it and the placement it has. When you design a banner, you already have very little space on it. Many people try to add as much information as they can to these banners, which result in an uneven and bizarre look. Avoid crumbling the excess information on the banners and try to add as little as you can; the rest can be a surprise for the customers. This way, you are inviting them to your business. The other thing to consider is the text and typography you are using. Make it attractive and catchy.
Use a sustainable material only
If you don't want your efforts to go to waste, then you must also consider the material that you are using for your banners. Not every material has the tendency to bear the printing load and so it must be selected carefully. Rather than using a fabric banner, try to use a sustainable material that also has the capability to last long. The eco-friendly materials are open to anything and have high flexibility in them. They can bear anything on them, and they still retain their properties. They do not break, and so your banners will be placed in the market without any damage to them.
Even after they are thrown, they decompose in less time and so providing no harm to the environment. Making all of these changes to the retractable banners will help you to craft the perfect look for them. They can help you in a much better way to promote the sales of your business if you advertise the products correctly on them. Sticking to some rules can give you a well-designed and compact banner that you can place anywhere. Any person who sees the banner will be intrigued by the message that you have displayed on it and will be forced to shop more from you.