Custom Boxes - Ship your Products Safely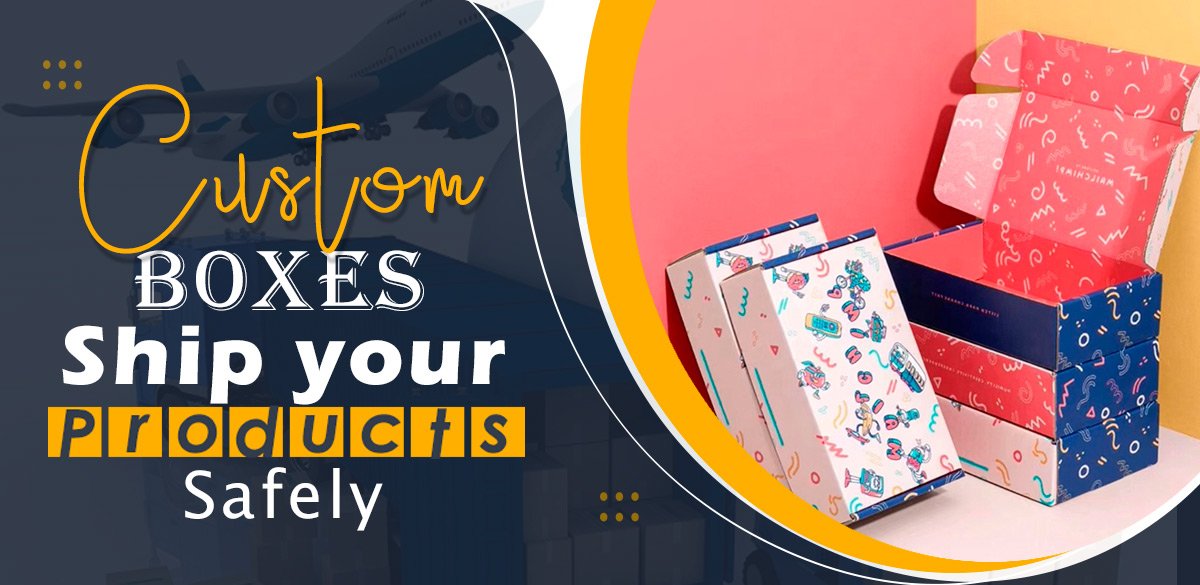 The box is responsible for protecting the product and displaying it as an ideal commodity. In a world where small and medium business owners are shipping their products around the world, these boxes are quickly gaining attention. This is helping businesses to increase their sales revenues. But, these are part of the product itself. When done right, the benefits of shipping boxes are more obvious. Let's see how custom boxes are involved in shipping the products safely to the destinations.
The Boxes increases the Protection of Special Items
Well-designed packaging can provide additional protection for your products, including the following: The correct packaging materials can keep the food fresh. It can form an odor-proof and waterproof barrier for items that may leak on the way to your destination. These boxes are also helpful in maximizing the shelf life of perishable items. These boxes can reduce the risk of damage to glass items, electronic products, and other fragile products.
By creating boxes designed to effectively protect these items, your business can reduce indirect costs and enhance your public image in the eyes of the consumers you serve.
The Boxes help in Brand Building
In the digital world of trends and Instagram, companies continue to come up with new ideas to increase the influence and visibility of their brands. As the number of e-commerce businesses increases, so does the number of products shipped globally. Using these shipping boxes helps increase brand awareness, regardless of geographic restrictions. Customizing the shipping box with the brand colors and printing the company logo with the slogan can help customers remember the brand anywhere. In addition, the colorful, beautiful, and unique boxes are likely to be reused by customers. This further increases the chances of brand awareness.
Improve Environmental Responsibility
Choosing environmentally friendly materials for your customized packaging allows your company to reduce its environmental impact. In addition to the obvious benefits for our planet, choosing eco-friendly materials can also have a positive impact on the corporate reputation. It helps reach the key for young consumers interested in pursuing an environmentally friendly lifestyle and protecting the environment. Of course, the most important aspect of choosing these packaging materials is that you can have a real impact on the health and well-being of our planet.
Ideal for Packaging Cosmetics, Bakeries and Electronics
The use of these boxes is very extensive and each product can be packaged inside when made to order. Whether you sell small cosmetics or baked goods, you can customize the packaging boxes for your products. Many cosmetic brands use cardboard boxes to package their products, and you can transform them into any shape, size, and style. Even for fragile and sensitive electronic products, customized boxes can be used. You can put special foam padding in your box so that you can take care of your product during transportation and it won't be damaged during transportation either.
Custom Boxes reduce your Delivery Costs
Boxes designed to store your products are generally cheaper. These require fewer packaging materials to protect breakable or breakable items from damage during transport to their destination. While reducing shipping or delivery costs may not be much for individuals, it can save a lot of money in the average tax year.
Enhance the Shopping and Shipping Experience
Sometimes, there is a big influence from little things. While choosing to ship your products in cardboard boxes doesn't necessarily cost more, it can go a long way in creating a more attractive shopping and shipping experience. This builds a more positive and complete experience. It results in improved packaging and branding efforts. It also helps to make customers feel like they have a unique shopping experience from start to finish. Having such a positive experience increases the likelihood that customers will repeatedly purchase items from the same retailer. They will also share this positive experience with their friends.
Highly Flexible to adjust Items
Many features make the cardboard box more unique than any other packaging box. These boxes are highly adaptable. They can be easily cut into any shape or size. No matter what you like, you can glue, glue and tie. The functions of these boxes are endless. They can be customized or cut to any size and this fact allows manufacturers to design unique packaging boxes to fully wrap them. Cardboard boxes are great packaging boxes. They can hold different products, such as books, shoes, small accessories, clothes, etc.
Since they can be cut to any size or shape, there is no limit to what they can pack. This is why many companies prefer cardboard boxes because they make packaging more comfortable and there are many options.
It is worth Investing in for Small Businesses
Of course, these packaging boxes with your logo are generally more expensive than standard packaging. It doesn't just apply to the largest companies in the world. Small businesses can also benefit from everything that packaging offers. After all, the cost of these boxes is lower than you think. From elegant print options to unique packaging textures, the shapes and designs are both protective and impressive. Good packaging takes your brand and products to another level. This alone is worth the incremental investment.