7 astonishing ideas to influence your customers on this easter via donut boxes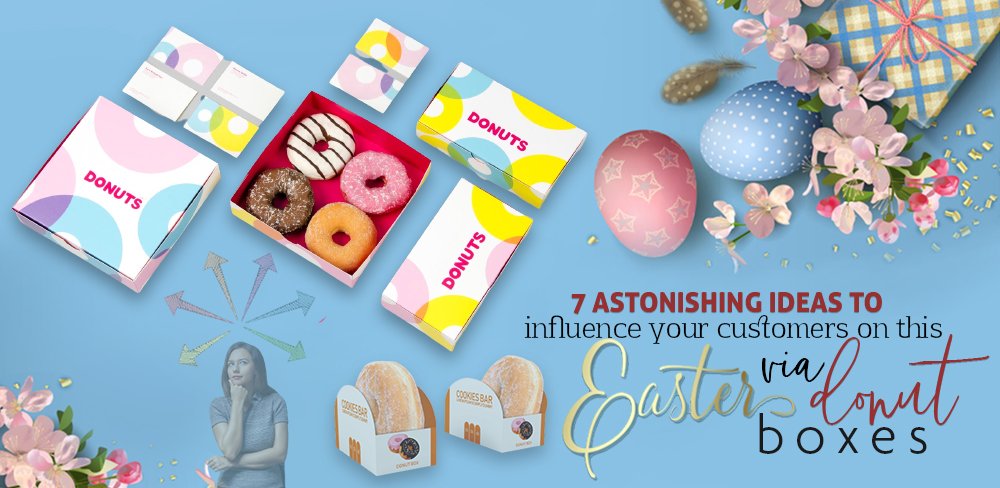 Easter is on the way, and people are thinking of gift ideas to be sent to their loved ones. Donuts can always be regarded as a perfect gift option for such occasions as such sweet delights can increase the love and affection between people. Donut boxes are now available in hugely attractive designs and custom options to make them look more eye-catching than ever.
Have a look at the ideas suggested below in this regard that can help you in optimizing the outlook of your food packaging for the coming Easter.
Glittered & Glossy Looks
Easter is a festival of happiness and sharing love. It is your chance to make your loved ones happier by sending them gifts wraps in affection and warmth. Sending donuts packed in beautifully designed custom boxes seems like a perfect idea.
Do you want to grab the contemplation of your customers as soon as they enter your donut shop? It is now not that difficult task. You just need to follow a few artifice and hacks, and you will be successful in impressing your customers. One of the best ideas specifically for the Ester festival is to give your donut packaging a glittered or glossy finish. This will have a striking impact on the customers as soon as they see one.
Die-Cut Designs
Die-cut designs can be applied to any packaging type as these are always helpful in giving your products a unique and classy touch. Now for Easter 2021 in the UK, it can be a wonderful option to have a die-cut display for the boxes.
Pack the donuts in such die-cut designed packaging solutions, and the customers will love such innovation from your side. Such a design is tailor-made for special occasions like these, and it is your chance to impress the visitors by offering them something unique and special.
Crystal Clear Front
People usually pack the gifts by keeping a level of suspense to some extent. On the other hand, going for an exactly opposite option by having a transparent front for your donut packaging can increase the worth of your products by multiple times. When a customer enters your shop, and his eyes get stuck at tempting sights of donuts packed in window boxes, he will feel no hesitation in buying from you straightaway. Attack their craving for sweet delights and offer them a clear view of your donuts to engage them in buying more from you.
Appeal them with Colors
Are you thinking of ideas for packing the Easter gifts for your customers and loved ones? To pack the food items like donuts for such festive occasions, the colors of the packaging are one of the most significant factors. Colors can play a big role in having the attention of the buyers. You can pack these products by choosing the color combinations that look compatible with each other and are appealing to everyone. Going for dark and bold shades can serve the purpose specifically of packing products for Easter.
Bring in the Ribbons
Going for the silver or golden colored ribbons on the edges can help you in giving a classy and versatile look to your custom donut boxes. The ribbons will give it a premium look, and the customers will consider buying such products from you as gift options for the coming Easter. The designs and colors of the ribbons can vary, and you can select them by relating with the colors of the topping of your donuts.
Effective Printing
Packaging and printing industries are closely linked with each other, and the printing features can help you a great deal whenever you plan to make the packaging look more influential and alluring.
For special events like Easter, you can use custom printed boxes to pack the donuts and other such sweet delights. You can give your customers a personalized involvement by printing something special for them or just display Easter wishes to make the customer-owner bond a bit stronger.
Meaningful Illustrations
The option of printing meaningful illustrations on your donut packaging is always on the cards. For Easter specifically, you can go with displaying the high-definition illustration of the Easter bunny. Such an illustration will make your products look distinguished among other market competitors. Make sure that you try to be as unique as possible. Use all your creative and innovative ideas in this regard and give your customers a personalized experience. Make this year's Easter holiday special by choosing the best gift items for your customers and loved ones. Make the packaging look exciting and different from other available options. To get your hands on such solutions at an affordable rate, waste no more time and get in touch with a vendor that supplies wholesale donut boxes for you.